Dr. Priyanka Reddy, a veterinary doctor from Shamshabad in Hyderabad was found dead with her body partially burnt under Chatanpally bridge in Shadnagar on Thursday morning. She worked as a vet in Kolluru village. The incident happened on Wednesday night. Where she was raped, killed and then burnt by four men who are said to be hailing from Narayanpet.
Police say that she died because Culprit covers the mouth and her nose which leads to her death. Then they wrapped their dead body in a blanket and take to the Shadnagar and burnt the body to leave no traces of their crime.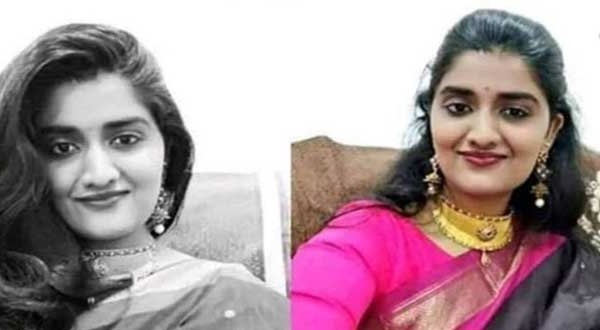 "SHE IS SCARED," Priyanka reddy young sister told police she called her around 9.22 pm when she returned from the clinic.  Priyanka saying that someone takes her scooter to repair because of the flat tire. She keeps talking to her sister until her scooter comes back. After that, she hung up the call. Her sister said that Priyanka's phone was switched off when her sister is trying to call her around 9.44 pm.
When the family failed to contact her they reach the toll plaza but did not find her, then they filed a complaint that was lodged by the police. Priyanka's body was found burnt around 25 km from the toll plaza. Priyanka's dead body was recognized by the necklace and clothes she was wearing on that day.
On 27 November 2019, Priyanka Reddy was returning to her home at 8 pm after finishing her duties in a hospital in Kollur village near shadnagar in Hyderabad, where she had been working for the past one year. She picks her vehicle, she noticed her rear wheel of the scooter was punctured. Now she is worried.
According to the CCTV footage, two men offered her help in fixing the punctured vehicle and they took her scooter for getting it fixed. Both of them returned after a short period and claimed that all nearby repair shops were closed and they helped her by taking it to another shop, according to the Police. She was waiting for them at an isolated place where some trucks, Lorries were parked.
Priyanka immediately called her sister Bhavya on the phone at 9:22 pm, who suggested that she leave her two-wheeler at the toll plaza and take a cab home. She talks to her sister for 6 minutes 45 seconds. Before she could, two men approached her, who offered to take her vehicle for repair.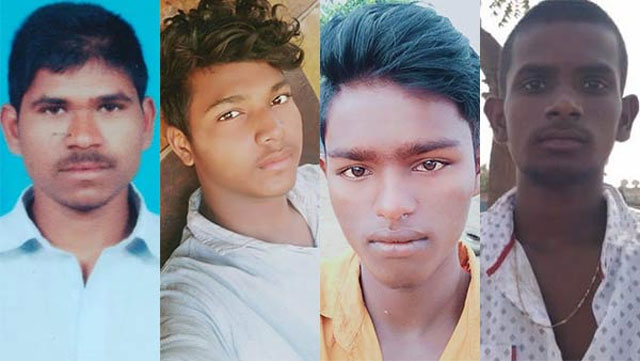 Mohammad Areef Pasha, Jollu Shiva, Jollu Naveen Kumar, and Chintakunta Chenna Keshavulu were the four culprits in this heinous crime on a 27-year-old vet. It was on November 27, that the doctor Priyanka was brutally gang-raped and killed.
On the morning of 28 November 2019 (Thursday), a milkman who named Shamala Satyam, first noticed fire underneath a culvert. However, he passed by thinking it was a bonfire. After some time while returning back on the same path, he noticed a raised handlike part and alerted the villagers who later informed the police.
After the police reached the spot charred body of the victim was found, they called her family to identify the charred body at Chatanpally Sub Road in Shadnagar, 25Km away. With the help of a scarf, a Ganesh locket, and a Buckle, the family identifies the charred body as that of the victim.
Hyderabad Police: The Real Simba
According to media reports, Indian police shot dead four men on Friday at around 3:30 am (2200 GMT Thursday) near the scene of the crime. Who was suspected of raping and killing a vet (Priyanka Reddy) in the southern city of Hyderabad. The man behind the encounter of 4 rapists real-life Dabangg Cp Sajjanar Sir.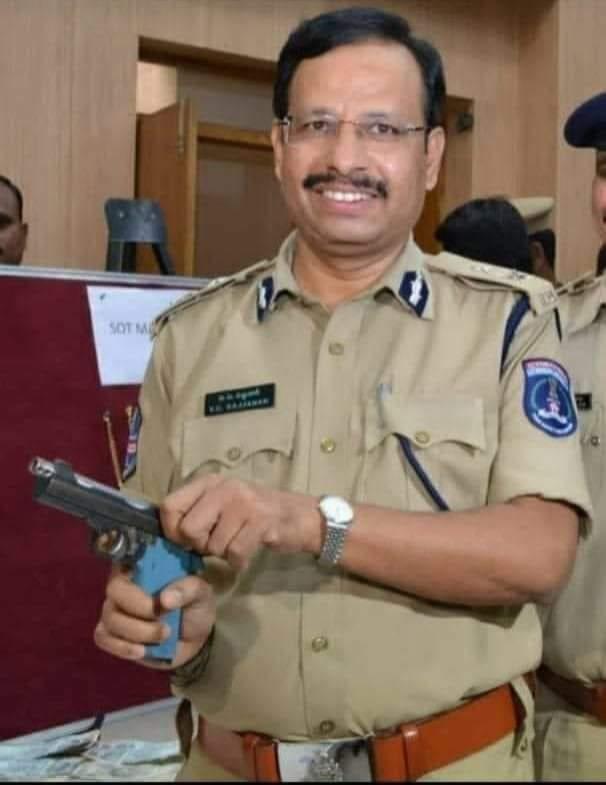 People applause from her family and residents outraged over crimes against women. The men had been in police authority and were shot close near the scene of last week's crime said 'N Prakash Reddy' a deputy commissioner of police in Shamshabad, near Hyderabad.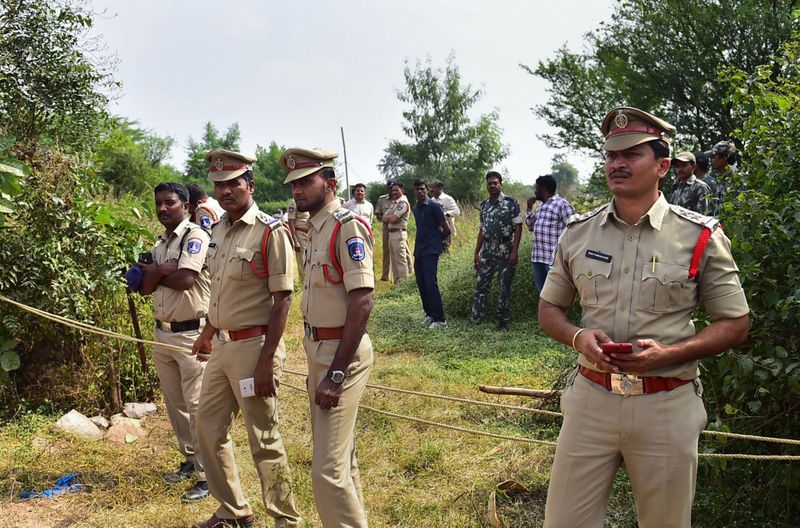 "In the morning at 6-6.30, A.M our people have come to reconstruct the area of crime and the accused have attempted to grab their weapons, and there was a shoot. In this, all four culprits have killed. During this two police officers have been harmed,".
Family Thanks To Police
Reddy's father says that "I am happy that four accused have been killed in an encounter". This incident will set an example. I thank the police and media for their help," the sister told Local TV reporters. Her family respected the police who killed the alleged culprits.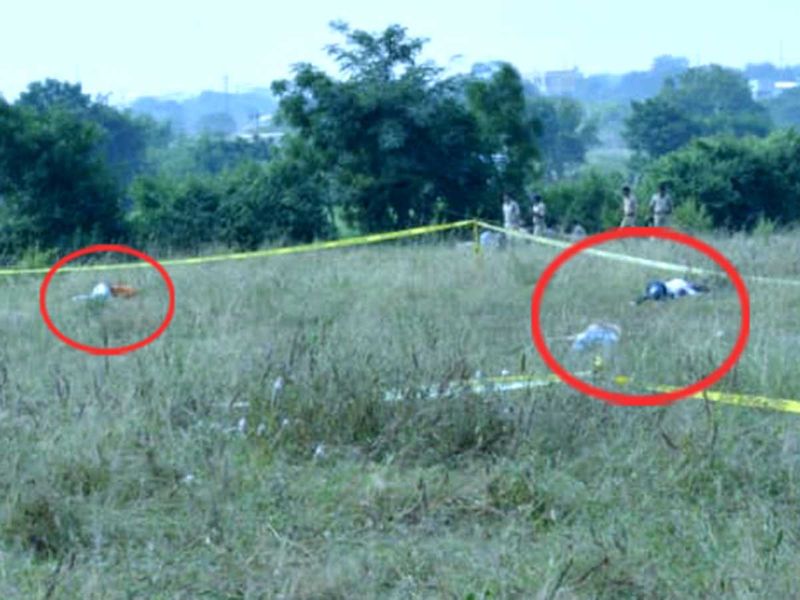 "It has been 10 days to the day since my daughter killed. I offer my thanks to the police and govt for this. My beloved daughter may her soul rest in peace. After the incident, many people are going to the place where she was found and prayer her and tribute flower where she found.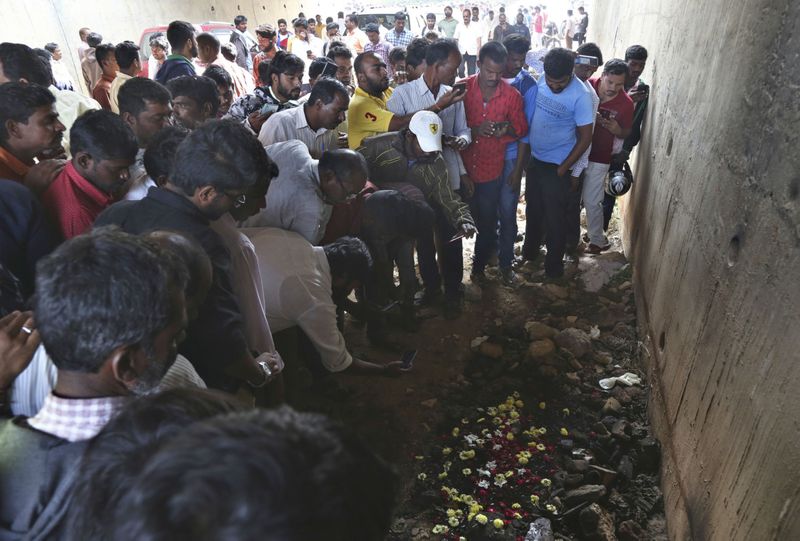 People showering the flower on police personnel at the spot where she was killed.After that people celebrate and shout the slogan in favor of the police and cheer them and gathering the place where they are killed.
Relentless Crimes Against Women
Crime against ladies has been increasing from the last few years regardless of extreme new laws that were sanctioned after the 2012 assault and murder of a lady in a Delhi transport that prompted an overflowing of outrage the nation over.
In spite of the setting up of Fast track courts, cases have moved gradually, for the absence of witnesses and the failure of numerous families to experience the long legitimate procedure. Many Indians praised the killings on Friday, taking to Twitter to support the police.
"Uncertain about whether this is correct or wrong but rather feeling very happy..just trust and promise that the ones slaughtered were the criminals. In Uttar Pradesh state, where an assault injured individual was set on fire on Thursday while she was en route to court, resistance legislator Mayawati said the police there should take "motivation" from what occurred in Hyderabad.
Celebrities Reaction on Priyanka Reddy Rape
Talking about the reactions that poured in from the Bollywood celebrities, Akshay Kumar, Rishi Kapoor, Varun Dhawan, Salman Khan, Anupam Kher, Armaan Malik, Bhumi Pednekar, Parineeti Chopra, and Yami Gautam were quick to write about it on their social media handles and they both celebrated the act of the police and showed their full support. Rishi wrote, "Bravo Telangana Police. My congratulations!"
All celebrities are very anger when listening about the Priyanka reddy case. some celebrities tweet on twitter this Priyanka Reddy case.
1. Anupam Kher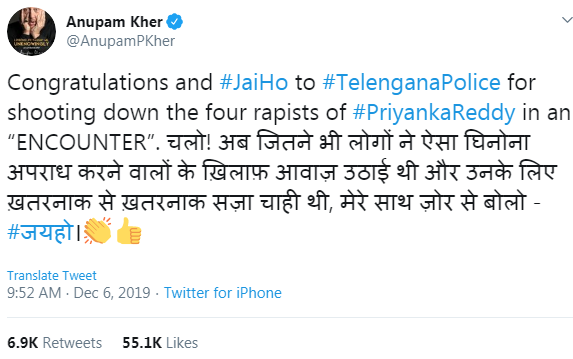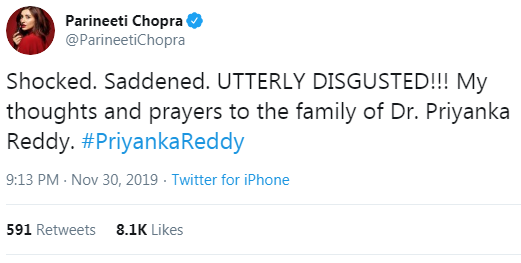 3. Salman Khan (Chulbul Pandey)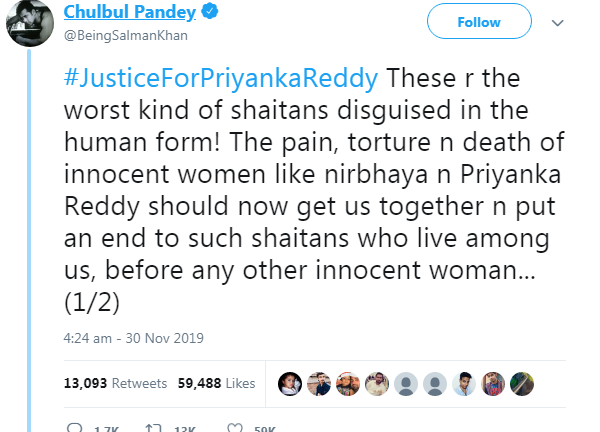 4. Akshay Kumar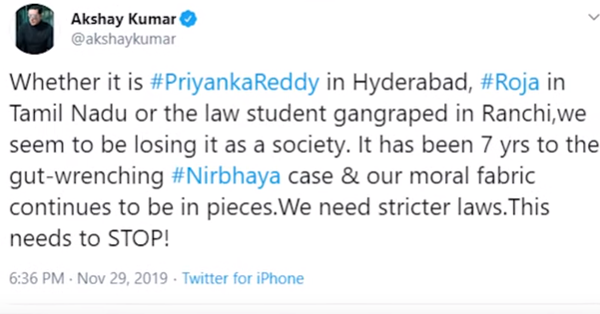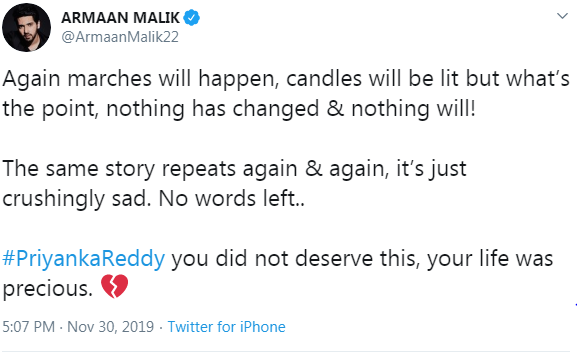 6. Varun Dhawan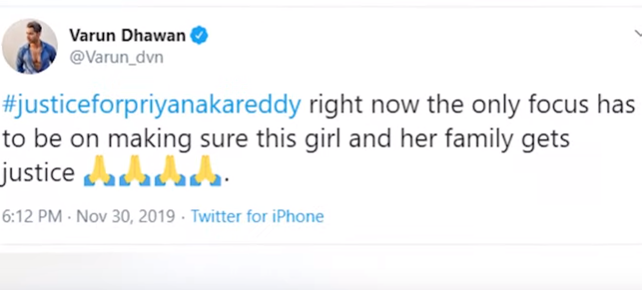 7. Yami Gautam: The actress, who played a visually-challenged rape victim in Kaabil, wondered out loud if the rapists had no fear for the law.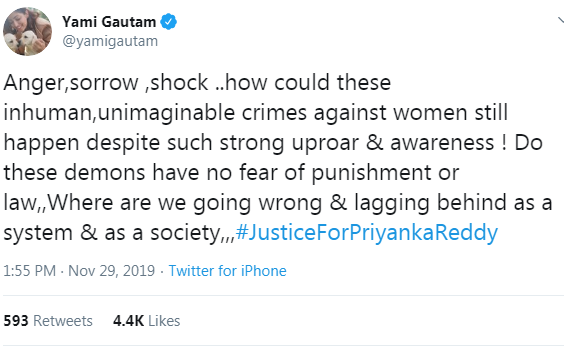 8. Bhumi Pednekar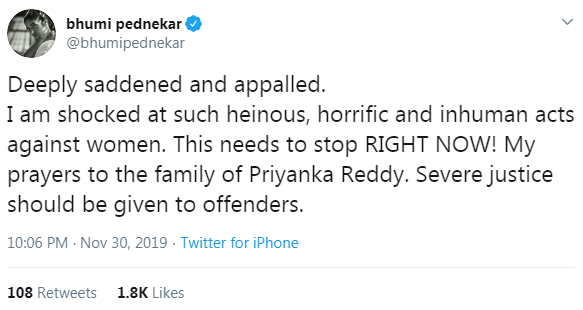 Government launched For girls Safety
Police launched a free ride scheme. Where any women who are alone & not able to find a vehicle to get home at night between 10 pm to 6 am can call the police helpline numbers (1091 and 7837018555) & request for a vehicle.
They will work 24*7. The control room vehicle or nearby PCR vehicle/ SHO vehicle will come & drop her safely to her destination.
This will be done free of cost. Past this message to everyone you know.
Share with everyone.
Follow Us