Amal Clooney is intelligent, successful and Hollywood's biggest bachelor. She is a Lebanese-British barrister at Doughty Street Chambers, specialising in international law, human rights activist and philanthropist. Apart from this She also lectured students on international criminal law at the Law School of the School of Oriental and African Studies.
She along with her high-profile defense cases, Clooney also has been a part of several United Nations commissions and lectured at the top universities. She is already a star in the legal world.
In 2019, Amal was appointed the special ambassadors on media freedom by the British Foreign and Commonwealth Office.
Let's Get more information about Amal Clooney Age, Height, Biography, Girls, And Many More.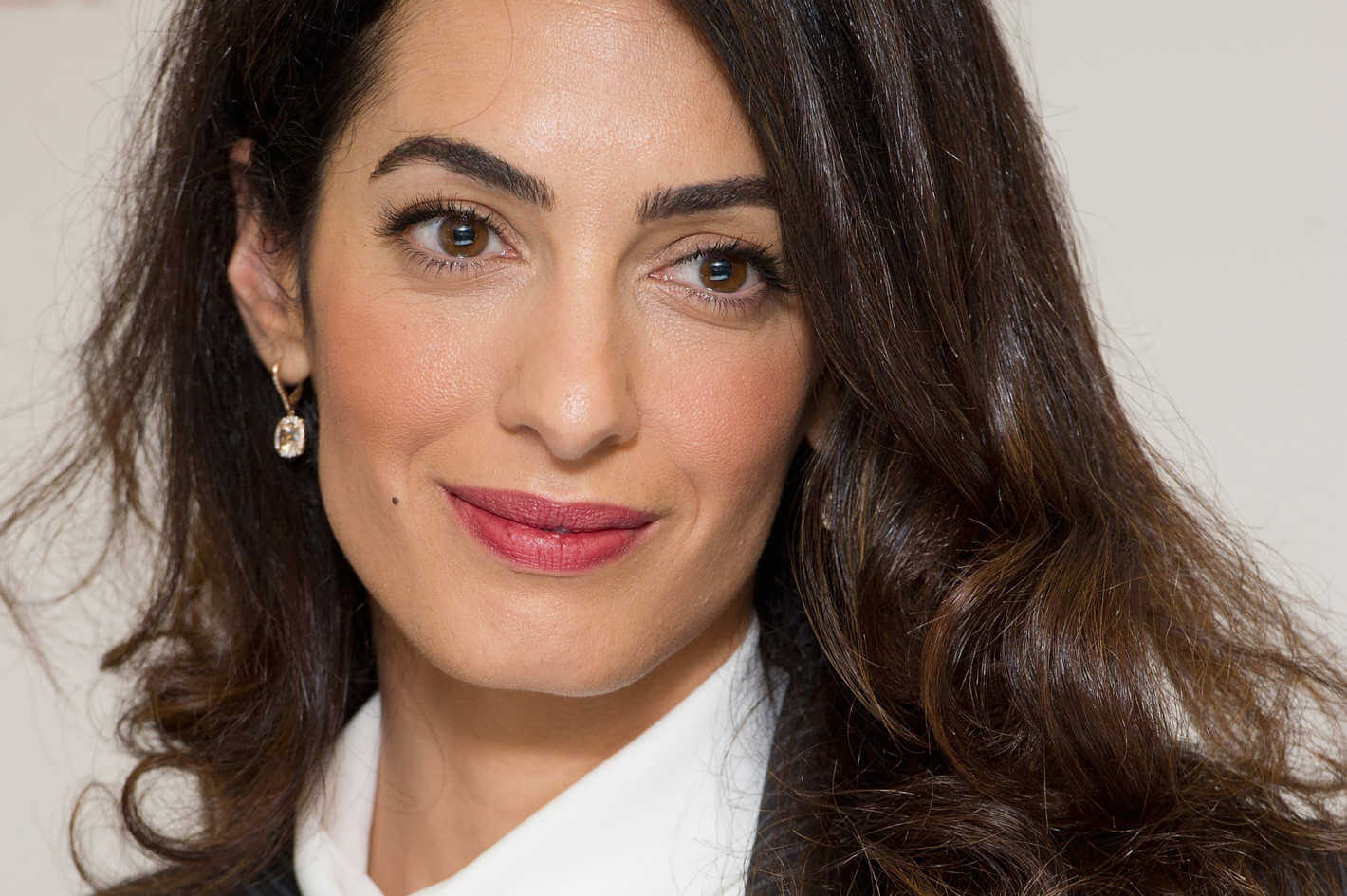 All Information About Her:
3.1 Bio
3.3 Favorite Things 
4.Career
4.1New York
4.2The Hague
4.3 London
7.Teaching
10.1 Social Media And Accounts
10.2 Some Other Facts
1. Family And Born Details
Amal Clooney was born and raised in Beirut, Lebanon to her father Ramzi Alamuddin is a Lebanese Druze and her mother Baria Alamuddin is a Lebanese Sunni Muslim. Furthermore details of Amal Clooney's family-
Father:- Ramzi Alamuddin
Mother:- Baria Alamuddin
Brothers:- Samer Alamuddin, Ziad Alamuddin
Sister:-Tala Alamuddin
Date Of Birth:- February 3, 1978
Birth Place:- Beirut, Lebanon
City:- Beirut
2.Early Life And Education
Amal Completed her school from Dr. Challoner's High School, a girls' grammar school is situated in Little Chalfont, Buckinghamshire. She completes graduation at St Hugh's College, Oxford, where she received an Exhibition and the Shrigley Award.
Clooney graduated with a BA degree in Jurisprudence (Oxford's equivalent to the LLB) from St Hugh's College, Oxford In 2000.
She studied at Oxford University and NYU(New York University). She is already a star in the legal world.
In 2001, she entered New York University School of Law to study for the LLM degree. In entertainment law, She received the Jack J. Katz Memorial Award for Priority. For the first semester while at NYU, she worked in the office of Sonia Sotomayor, then a judge for the United States Court of Appeals for the Second Circuit
School:- Dr. Challoner's High School
College:- St Hughs College, Oxford, New York University School of Law
Education Qualification:- BA Degree in Jurisprudence (Oxford's equivalent to the LLB), LLM
Debut:- 2004
3. Personal Life
Amal Clooney is vocal in English, French, and Arabic. Her father is a Lebanese Druze and her mother is a Lebanese Sunni Muslim.
In July 2013, They had the first time met through a mutual friend. On 28 April Amal Clooney engaged and subsequent marriage to American actor, George Clooney, rocked the entertainment media with the news that Clooney, a notorious bachelor, would be settling down.
The couple obtained marriage licenses in the Royal Borough of Kensington and Chelsea in London On 7 August 2014.  On 27 September 2014 Clooney married to George in Venice's city hall (at Ca' Farsetti), following a high-profile wedding ceremony two days earlier, also in Venice.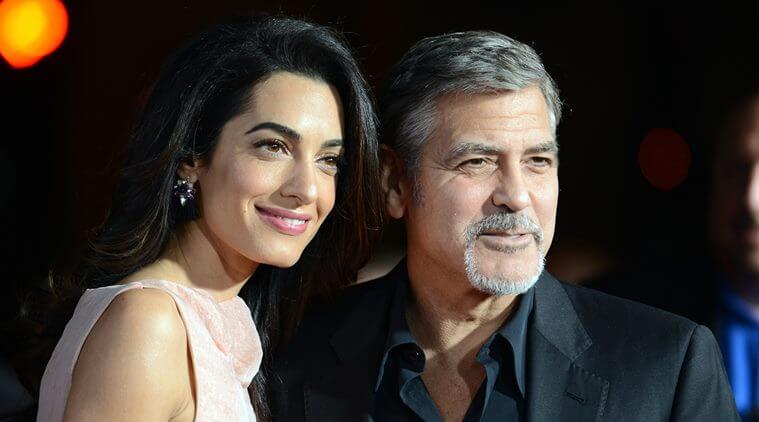 They were married by Clooney's friend Walter Veltroni, former mayor of Rome. The wedding was widely reported in the media. In October 2014, it was announced that the Clooneys had bought the Mill House on an island in the River Thames at Sonning Eye in England at a cost of around £10 million.
In February 2017, it was reported by the CBS talk to show The Talk that Clooney was pregnant  and that she and her husband were expecting twins Friend Matt Damon confirmed the pregnancy to Entertainment Tonight. June 2017, she gave birth to a cute daughter Ella and son Alexander.
When not travelling, the Clooneys live in London on a large estate occupying an island along the River Thames. The Clooneys' considerable combined wealth has allowed them the ability to take part in philanthropy work. The issues they share in common include protecting human rights during times of international conflict.
Bio
Real Name:- Amal Ramzi Alamuddin Clooney
Age (as in 2019):- 41 Years Old
Home Town:- Buckinghamshire England
Sun sign:- Aquarius
Famous For:- Lawyers & Human Activities
Profession:- Activist Lawyer
Also Known As- Amal Alamuddin, Amal Ramzi Clooney
Religion:- Islam
Famous as:- Lawyer, Activist
Nationality:-  British, Lebanese
Physical Appearance
Height(approx):- in centimeters- 175cm
in meters- 1.75m
in Feet Inches- 5' 9"
Weight(approx):- in Kilograms- 54 kg
in Pounds- 121lbs
Body Measurement:- 34-26-35
Hair Color:- Black
Eye Color:- Black
Favorite Things
Classy Perfume:- Something Blue by Oscar de la Renta
Cream:- Charlotte Tilbury's Wonderglow primer
Lipstick:- Bold Matte Revolution Lipstick
Sheer Foundation:- Light Wonder 7
Eyebrow Pencil:- Cara D Brow Lift brow pencil
Boys Affairs And More
Marital Status:- Married
Husband:- George Clooney(American Actor)
Children:- Alexander Clooney, Ella Clooney
Boys Affairs:- Not Known
Money Factor
Net Worth (Approx):- Amal's net worth is an impressive $10 million. The couple George And Clooney together earn are worth about $510 million.
4.Career
After qualified, she practices as a lawyer in the United States and the United Kingdom. She was admitted to the bar in New York in 2002 and Wales in 2010. After Completed her education, She has also practiced at international courts in The Hague and including the International Court of Justice and the International Criminal Court.
New York
Amal worked for three years at Sullivan & Cromwell in New York City as part of the Criminal Defense and Investigations Group, where her clients included Enron and Arthur Andersen.
The Hague
In 2004, Amal Clooney completed a judicial clerkship at the International Court of Justice. From Russia, she clerked under Judge Vladlen S. Vereshchetin,  from Egypt Judge Nabil Elaraby, and from the United Kingdom ad hoc Judge Sir Franklin Berman.
She was subsequently based in The Hague working in the Office of the Prosecutor at the UN Special Tribunal for Lebanon and at the International Criminal Tribunal for the former Yugoslavia.
London
In 2010 Amal returned to London, where she works as a barrister(a legal representative similar to a lawyer) in London (Bar of England & Wales, Inner Temple) at Doughty Street Chambers.
Clooney was appointed to a number of United Nations commissions In 2013, including as adviser to Special ambassador Kofi Annan on Syria.
Amal has also contributed to the Global Summit to End Sexual Violence in Conflict initiative, which works to defend the rights of women in war zones, and in early 2015 she announced that she would represent Armenia in the European Court of Human Rights during its case against Turkey for the denial of the Armenian genocide.
5.Notable case
2011-2015
As of 2011, Amal was assisting the Permanent Court of Arbitration in the arbitration between Merck Sharp and Dohme and the Republic of Ecuador.
In 2014, Amal describes Canadian Al Jazeera English journalist Mohamed Fahmy who, along with other journalists, was being held in Egypt. He was lastly sentenced to three years in prison and lost a retrial in August 2015 before finally being pardoned by Egyptian President Abdel Fattah al-Sisi.
In August 2014, Clooney declined a UN commission to look into possible violations of the rules of war in Gaza during the Gaza war of 2014.
In October 2014, Clooney was hired in an attempt to repatriate the ancient Greek sculptures the Elgin Marbles. Greece decided to stop legal proceedings to recover the sculptures and dismissed her as their brief, In May 2015.
On 8 March 2015, Clooney filed a case against the Government of the Republic of the Philippines before the UN's Working Group on Arbitrary Detention, a body under the United Nations Commission on Human Rights, for the continued detention of former Philippine president Gloria.
Macapagal-Arroyo. Arroyo was a sitting Pampanga congresswoman at the time. On 2 October, The United Nations Working Group on Arbitrary Detention later released its opinion that the detention of former President Arroyo "violates international law" and is "arbitrary on a number of grounds.
2015-2019
On 7 April 2015, it was announced that Clooney would be part of the legal team defending the former President of the  Maldives 'Mohamed Nasheed', former President of the Maldives, in his ongoing arbitrary detention.
she is with former Maldives President Mohamed Nasheed, she helped Mohamad Nasheed to free from jail after 13 years.
In June 2015, Clooney began work on the recently re-opened Hooded Men case brought by the Irish government against the British government in the European Court of Human Rights. Clooney worked with Irish Minister for Foreign Affairs Charles Flanagan on the case, which concerned policies used by UK Prime Minister Edward Heath(1970–1974) in Operation Demetrius that included the illegal interrogation methods known as five techniques. In September 2018, the court rejected the final appeal in the case.
Clooney is also a part of the legal team describes 'Louis Olivier Bancoult' and Chagos islanders. In 2016, Ismayilova's investigative work had resulted in her imprisonment. After the litigation, Ismayilova was released from prison and had her sentence reduced to a suspended three-and-a-half-year term.
In September 2016, Clooney spoke – for the first time at the United Nations – before the United Nations Office on Drugs and Crime (UNODC) to discuss the decision she made in June 2016 to represent Nadia Murad as a client in legal action against ISIL commanders. By ISIL, Clooney characterized the genocide, rape, and trafficking as a "bureaucracy of evil on an industrial scale", describing a slave market existing both online, on Facebook and in the Middle East that is still active today.
From Myanmar on 7 May 2019 Clooney, along with Ara Darzi, was involved in received the release of two Reuters journalists, Wa Lone, and Kyaw Soe Oo.
6.Appointments
For the period 2014 to 2019, the UK Attorney General's Office appointed Clooney to the C Panel of the Public International Law Panel of Counsel, On 25 February 2014.
In May 2014, Clooney was a signatory of UNICEF(United Nations International Children's Emergency Fund) UK and Jemima Khan's open letter that called for "action from UK Government to protect women and children".
On 2 January 2015, it was reported by The Guardian that before Clooney was involved as Rapporteur in the case against Mohamed Fahmy, she had written a report on February 2014 for the International Bar Association's Human Rights Institute (IBAHRI) that was critical of Egypt's judiciary process.
Clooney and other people were warned that there was a strong possibility they would be arrested if they entered Egypt, as a result of the criticism.
In April 2019, Clooney became a special envoy at the British Foreign and Commonwealth Office, advising the Secretary of State, Jeremy Hunt on global media freedom. Clooney will chair a panel of international lawyers to 'develop and promote legal mechanisms to prevent and reverse media abuses' In her role as media freedom special ambassador.
7.Teaching
Clooney was a visiting faculty member and a senior fellow with Columbia Law School's Human Rights Institute, For the spring 2015 and 2016 academic semesters. She was a co-professor with Sarah H. Cleveland in Cleveland's course on human rights and taught a class on human rights litigation to students in the school's Human Rights Clinic.
For the spring 2018 semester, Clooney taught at Columbia Law School, again as a co-professor with Sarah H. Cleveland on a core class on human rights.
Outside of court, Clooney has lectured students on international criminal law at the Law School of the School of Oriental and African Studies, University of London, The New School in New York City, The Hague Academy of International Law, and the University of North Carolina at Chapel Hil.
Apart from this She also work as a visiting faculty member at Columbia Law School.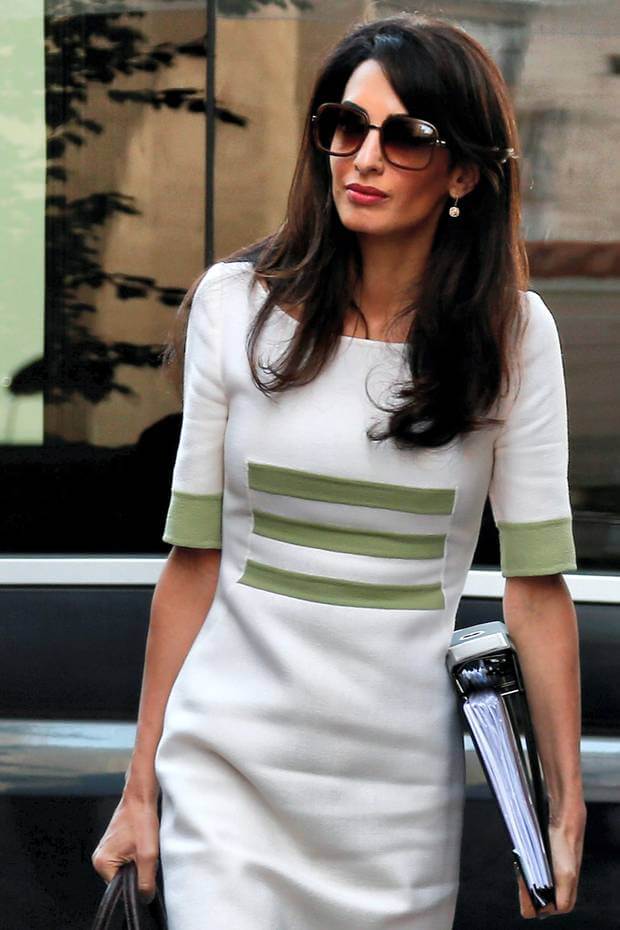 8.Major Works
Amal Clooney has co-authored the book "The Law and Practice of the Special Tribunal for Lebanon", published in 2013 by the Oxford University Press.
She has written chapters for several high-profile works on international law, plus countless advisement papers for judges, politicians, and corporations from many nations.
9.Awards & Achievements
Clooney received an Exhibition and the Shrigley Award, Where she studied at St Hugh's College, Oxford. In entertainment law from NYU School of Law Clooney received the Jack J. Katz Memorial Award for excellence.
She achieved As Barbara Walters' Most Fascinating Person of 2015. Amal Clooney was chosen for Best British Style alongside David Beckham, Kate Moss, Keira Knightley, and Emma Watson At the 2014 British Fashion Awards.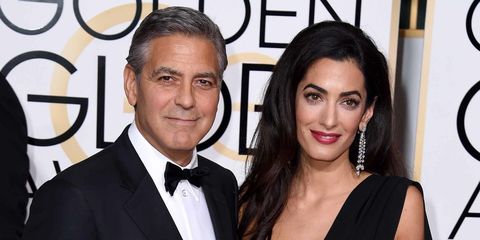 10.Current Work & Details
Social Media And Accounts
Facebook:- facebook.com/amalcoolney
Twitter:- twitter.com/amalcoolney
Instagram:- instagram.com/amalcoolney
Some Other Facts
Amal is fluent in Arabic, English, and French.
She Sometimes writes For The Huffington post.
In 2013, Amal Landed on the number one spot of London's Hottest Barrister List.
She doesn't tolerate fashion questions in the courtroom.
In 2013, She met Smart and charming Hollywood actor George Clooney at a charity ­fundraising in Italy.
In September 2014, The couple married in Venice, a year after they met.
Their wedding photos were released to People and Hello! magazines, the highest bidders.
Amal Clooney started teaching at Columbia Law School in 2015.
She met with former British Prime Minister David Cameron to discuss the freeing of her client Mohamed Nasheed.
After successfully practicing law in New York for a few years, she returned to London and joined the firm Doughty Street Chambers, which is famous for civil cases.
Among her, more famous clients are Julian Assange, the founder of Wikileaks.
One of the most impressive and influential facts about Amal Clooney was her appointment as counsel to the U.N. Special Rapporteur on counter-terrorism and human rights investigating Syria's use of armed drones.

News of Amal's new job comes ahead of the International Conference on Media Freedom.
More Related Posts:-