Jinder Mahal is a Canadian Famous wrestler currently he signed to world wrestling Entertainment (WWE), where he performs on the SmackDown brand under the ring name Jinder Mahal. Mahal is the first wrestler of Indian descent to win the WWE Championship.We all Know another name of  Yuvraj Singh Dhesi (born July 19, 1986).He is currently inactive due to a knee injury.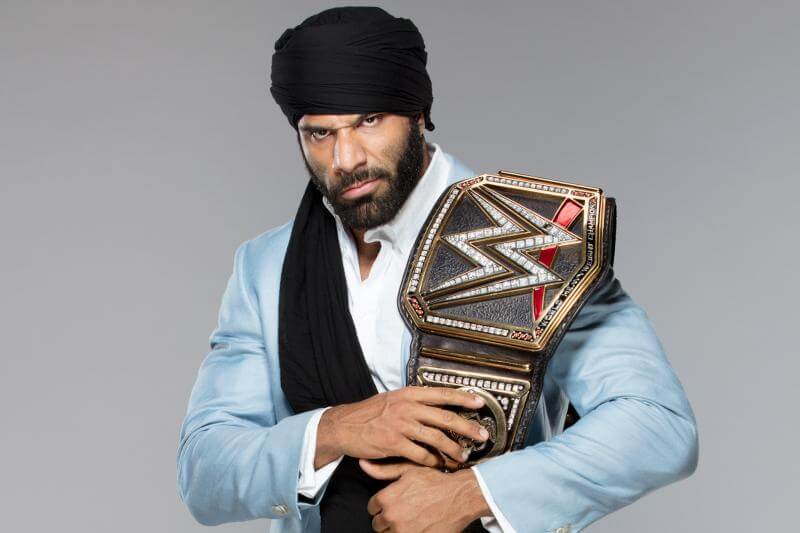 All Information About Him:
2.1 Early Career
2.2 World Wrestling Entertainment
3.1 Bio
3.3 Favorite Things
5. CHAMPIONSHIP AND ACCOMPLISHMENT
6.2 Some Other Facts
1. FAMILY & BORN DETAILS
In his Family, He has an Uncle Who is Gadowar Singh Sahota is an Indian-Canadian semi-retired professional wrestler known as Gama Singh.
Date of Birth:-19 July 1986
Birth Place:- Calgary, Albert, Canada
Father's Name:- Not Known
Mother's Name:- Not Known
Brother:-  Not Known
Uncle:- Gama Singh
2. STUDY & CAREER
School:  Not Known
College/University:  University of Calgary Canada
Educational Qualification: Business Degree in Communication And Agriculture
Trained: Allen Coage Gama Singh Gerry Morrow Rick Bognar
Debut: 2002
Early Career
Dhesi began his professional wrestling career at the Martial Arts Fitness Center in Calgary, Alberta, training with Rick Bognar.
He participates in Premier Martial Arts Wrestling (PMW) as Raj Dhesi and then went on to train with Allen Coage and Gerry Morrow, wrestling in a revived Stampede Wrestling alongside WWE wrestlers Natalya, Tyson Kidd, and Viktor.
As Tiger Raj Singh, Dhesi also won various tag team championships in Stampede and in Prairie Wrestling Alliance (PWA), spending much of his early career teaming with his cousin Gama Singh Jr. Dhesi and Singh Jr. were known as The New Karachi Vice and also as Sikh & Destroy, winning the PWA Canadian Tag Team Championship.
In PWA, he was the PWA Heavyweight Champion from 2008 until January 2010 and also spent time in Great North Wrestling (GNW), where he fights with wrestlers such as Hannibal and Samoa Joe.
World Wrestling Entertainment
Florida Championship Wrestling (2010–2011)
Dhesi traveled to Tampa, Florida to try out for World Wrestling Entertainment's developmental promotion Florida Championship Wrestling (FCW).
In February 2010, he signed to a developmental contract with FCW and wrestled there for a year under the ring name Jinder Mahal.
Early feuds (2011–2012)
Mahal made his televised WWE debut on the April 29, 2011 episode of SmackDown.he was really happy and excited to see Khali and Ranjin and he was greeting to Indian wrestler The Great Khali and his manager Ranjin Singh by speaking in Punjabi.
He interrupted Khali's match against Jey Uso, leading to Khali confronting Mahal, on the may 20 episodes of smackdown.
On the October 14 episode of SmackDown Mahal competed in a 41-man battle royal (the largest battle royal in WWE history) and Mahal made it to the final three before being eliminated by Randy Orton.
In April, Mahal starts confronting several wrestlers, with Randy Orton, interrupting one of his promos and being attacked in retaliation with an RKO.
3MB (2012-2014)
Mahal and Drew McIntyre interfered in Heath Slater's match against Brodus Clay by attacking Clay, On the September 21 episode of SmackDown. The alliance of Mahal, Slater and McIntyre was later named 3MB. At TLC: Tables, Ladders & Chairs on December 16, 3MB were defeated by the team of Alberto Del Rio, The Brooklyn Brawler, and The Miz.
in an attempt to make a name for themselves, 3MB tried to attack Triple H, but were attacked themselves by The Shield (Dean Ambrose, Roman Reigns and Seth Rollins), On the April 12 episode of SmackDown.
In late 2013, 3MB began adopting new ring names against their opponents, although their misfortunes and amounting losses remained the same. Mahal competed in the André the Giant Memorial battle royal but was eliminated by Mark Henry, At WrestleMania XXX on April 6.
In April, 3MB formed an alliance with Hornswoggle to feud with Los Matadores (Diego and Fernando). Jinder Mahal was released from his WWE contract On 12 June.
3. PERSONAL LIFE
Dhesi was born in Calgary, Alberta, Canada and he is of Indian Punjabi Sikh origin and speaks Punjabi, Hindi, and English.
Mahal is the nephew of Famous wrestler Gama Singh, who is considered a legendary villain in the original Stampede Wrestling and who wrestled around the globe and also briefly for the then WWF (World Wrestling Federation, now known as WWE) in the 1980s.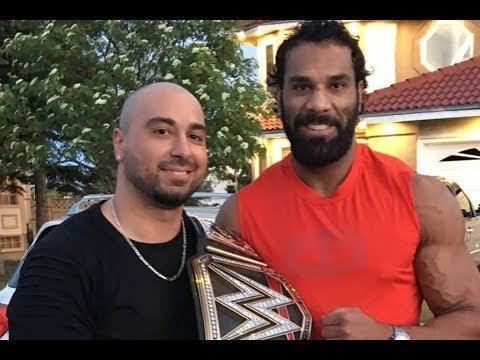 Dhesi also holds a business degree in communications and agriculture from the University of Calgary. Mahal's friends-Amateur wrestling champion and UFC fighter Arjan Bhullar.
Bio
Real Name:- Yuvraj Singh Deshi
Nickname:- The Man of Piece, The Maharajah
Zodiac sign:- Cancer
Famous For:- wrestler
Country:- Canada
Profession:-  Professional Wrestler
Billed From:- Punjab India
Religion:- Sikhism
Hobbies:-  Watching Movies and playing Video Games
Nationality:- Canadian
Address:- 3690 W Gandy Blvd.
#182
Tampa, FL 33611-2608
USA
Physical Appearance
Age(2019):- 33 Years old
Height(approx):- in centimeters- 193cm
in meters- 1.93m
in Feet Inches- 6' 4"
Weight(approx):- in Kilograms- 116 kg
in Pounds- 256lbs
Body Measurements: – Chest: 46inches
– Waist: 33inches
– Biceps: 20inches
Hair Color:- Black
Eye Color:- Dark Brown
Favorite Things
Wrestler:- John Cena Bret Hart Shawn Michaels The Undertaker
Girls Affairs And More
Marital Status:- Unmarried
Girls Affairs:- Not Known
Money Factor
Salary (Approx):-  As of 2018, Jinder Mahal receives a yearly salary of $900,000.
Net Worth (Approx):- Jinder Mahal Net Worth as of 2019: $300,000.
Win/Loss Ratio:
411(w)/94(l)/5(d) out of 510 total matches
4. RETURN TO WWE
Jinder Mahal defeat 13-time WWE ChampionRandy Orton. He won a world championship in the WWE and he also second wrestler of Indian origin.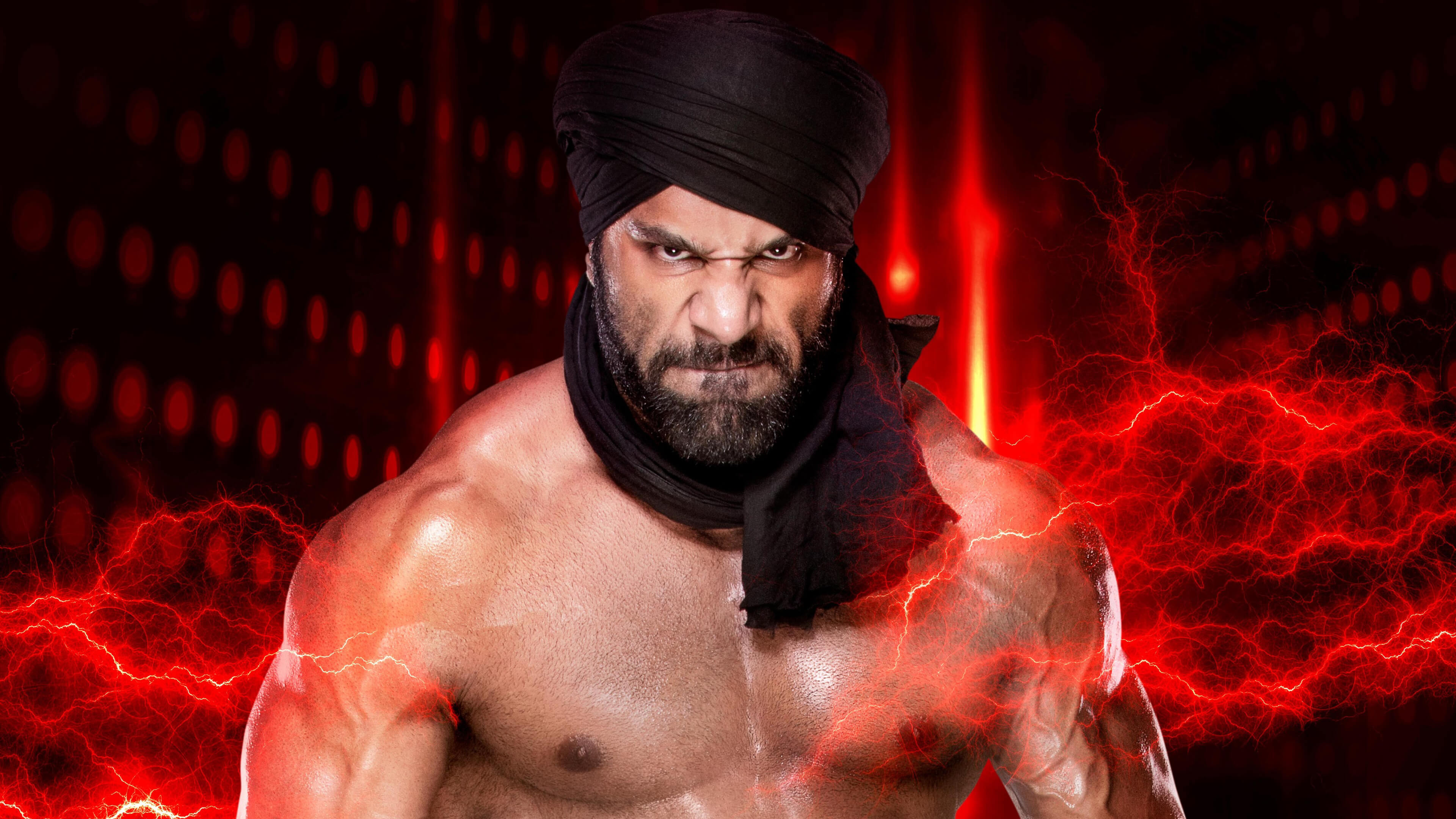 Teaming with Rusev (2016–2017)
On July 27, Mahal re-signed with the WWE .On the August 1 episode of Raw, Mahal returned to television alongside Heath Slater, demanding contracts until Raw General Manager Mick Foley informed the pair that they had to face each other in a match for a Raw contract, which Mahal won.
Mahal then adopted the gimmick of a "man who comes in peace", advocating peace and tranquility. Mahal stated that after he left WWE he "felt anger and rage" and had since "found inner peace" before defeating Jack Swagger, On the September 12 episode of RaW.
Afterward, Mahal began competing on main Event and Superstars, where he often business wins and losses  against Darren Young.
On the 2 January, 2017 episode of Raw, Mahal and Rusev defeat Amore's tag team partner Big Cass in a 2-on-1 handicap match. Mahal was the runner-up in the André the Giant Memorial Battle Royal, being eliminated last by Mojo Rawley after interference from Rob Gronkowski, On April 3 at the WrestleMania 33 preshow.
On April 11 Mahal was moved to SmackDown as part of the Superstar Shake-up. On that night, he lost to Rawley after another interfer from Gronkowski to end their fight.
Championship reigns (2017–2018)
On the April 18 episode of SmackDown, Mahal won a six-pack challenge also involving Mojo Rawley, Dolph Ziggler, Erick Rowan, Luke Harper and Sami Zayn to earn a title match for the "WWE Championship" after interference The Singh Brothers (Samir and Sunil Singh).
As part of the storyline, Mahal attacked WWE Champion Randy Orton, taking the title belt and costing him his match with Bray Wyatt at the Raw brand's exclusive Payback event on April 30.
On the August 15 episode of SmackDown, Baron Corbin cashed in his Money in the Bank contract on Mahal, who had just lost to John Cenaby disqualification. However, Mahal retained the title by pinning a distracted Corbin with a roll-up.
In the following weeks, Mahal started a feud with Shinsuke Nakamura over the championship, retaining the title against him at Summer-slam on August 20 after interference by The Singh Brothers.
After dropping the WWE Championship, Mahal was quickly inserted into the United States Championship picture after previous champion Dolph Ziggler vacated the title on the December 19 episode of SmackDown.
He competed in an eight-man tournament to crown a new champion, defeating Tye Dillinger and Xavier Woods in the first round and semi-finals, respectively. The Singh Brothers attacked Bobby Roode.
Gimmick change, Mahalicia, and 24/7 Championship (2018–present)
2018, On the May 7 episode of Raw, after defeating Chad Gable, Mahal was denied entry into the triple threat Money in the Bank qualifying match by General Manager Kurt Angle, which led to Mahal interfering and costing Roman Reigns the match later that night.
Mahal returned as the "man who comes in peace" and defeated Chad Gable, The night after on Raw.
In September, Mahal competed in the 2nd iteration of the WWE Mixed Match Challenge, teaming with Alicia Fox as "Mahalica
At the TLC pay-per-view on December 16, Mahal and Fox lost the final to R-Truth and Carmella. On January 27 2019, Mahal participated in the Royal Rumble match, entering at number 7, before being eliminated by Johnny Gargano.
2 June, Mahal captured the 24/7 Championship after pinning champion R-Truth on a golf course but dropped the title right back to Truth immediately afterward due to a distraction by Carmella.
Four days later, he defeated Truth for the title by pinning him on an airport tarmac, becoming a two-time 24/7 Champion, but Truth won the title back hours later when he pinned Mahal inside of the airplane.
On June 28, WWE announced that Mahal suffered a knee injury and it was reported that the injury would sideline him for six to twelve months.
5. CHAMPIONSHIP AND ACCOMPLISHMENT
One Time Championship with Gama Singh Jr.

Continental Wrestling Entertainment

CWE Heavyweight Championship (1 time)

Prairie Wrestling Alliance

One time championship with Gama Singh Jr "PWA".
PWA Heavyweight Championship (2 times)

Pro Wrestling Illustrated

Most Hated Wrestler of the Year (2017)
Most Improved Wrestler of the Year (2017)
Ranked No. 14 of the top 500 singles wrestlers in the PWI 500 in 2018

Stampede Wrestling

Two Times Championship with Gama Singh Jr.

Wrestling Observer Newsletter
WrestleCrap

Gooker Award (2017) – Winning the World Wrestling Entertainment
Championship

WWE

WWE Championship (1 time)
One time WWE United States Championship
WWE 24/7 Championship (2 times)
6.CURRENT WORK AND DETAILS
Social Media & Accounts
Mahal appears in the wrestling video games WWE '13, WWE 2K14, WWE 2K18, and  WWE 2019.
Twitter.com: @jindermahal (followers-300K)
Instagram .com: @jindermahal (followers-590K)
Some Other Facts
At the age of 19, Mahal starred wrestling as "Tiger Raj Singh" at Stampede Wrestling, Canada's into city of calgary.
Mahal Begin Professional Wrestling at the Marital Arts Fitness Center in Calgary Albert.
He learned Punjabi.
Jinder failed his first World Wrestling Entertainment try-out.
He was the member of 3MB.
His First Main Roster Feud Was Against the Great Khali.
Mahal Found Vince McMahon Too Intimidating
He Tried Out for the WWE At Age 23.
14 October 2017  Superstar Jinder meet Famous cricketer Sachin Tendulkar and his son in New Delhi .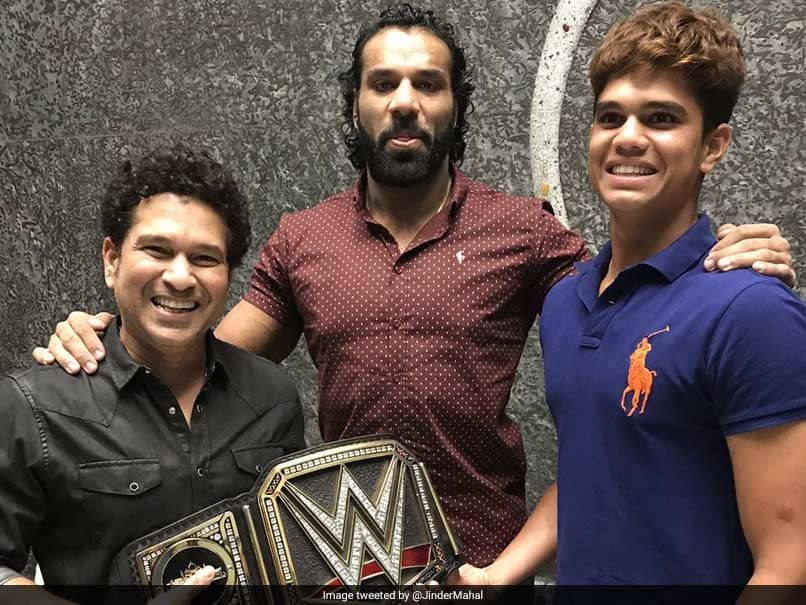 Jinder has got a degree in Business of Communications and Culture from the University of Calgary.
Jinder Mahal has won the PWA Heavyweight Championship,PWA Tag Team Championship three times and the "Stampede Wrestling International" Tag Team Championship twice.
When he lost to the Great Khali, Jinder Mahal was unbeaten for about five months on TV since his debut on April 29, 2011, to 23 September 2011.
He is from a wealthy & middle-class background, Jinder Mahal was taught to never rest on his laurels.
In life, many of these motivational talkers always tell us that if at first, you don't succeed, try, try again. Jinder Mahal did, and he succeeded. In one of the few times that WWE crossed the border to hold try-outs in Canada.
The Superstar Jinder Mahal is from Punjab. His family shifted to Canada in late 1960 and settled there.
Biography You May Like
Follow Us